Housed since 1993 in a former shopping centre, the museum boasts 3,000 m2 of light-filled exhibition space. The museum has universal appeal and many surprises to offer, with fascinating galleries devoted to the Vendée wars and the evolution of art from 16th to 21th centuries.
From the entrance hall and beyond, the visitor is welcomed into a contemporary artistic environment created by Daniel Buren and François Morellet.
Contact informations
Musée d'Art et d'Histoire
27 avenue de l'abreuvoir
49300 Cholet
GPS : 47.058385,-0.880483
Tel. 33 (0)2 72 77 23 22
E-mail : museearthistoire@choletagglomeration.fr


The museum on Facebook

Parking on the market place, less than 400m of the museum. Bus parking lots along the building
Bus stop: Hôtel de Ville - Bus 1-2-3-4-5-6
Opening times
» Open from Wednesday to Saturday and public holidays
from 10am until midday and from 2:30pm until 6pm
» and Sunday from 2:30pm until 6pm
(except 1st January, 1st May and 25th December, Sunday of the carnival)
» In July and August, extra opening on Mondays.
» Last admission time : 11.30 am. and 5.30 pm.
Exhibition admission and concessions
Individual visit
Exhibition ticket : 4 €
Cezam cardholders: 2 €
Free entrance for children, students, teachers, those accompanying school groups.

Every Saturday from October to May, free entrance to the museum
Combination ticket (with Textile and Fashion Museum) : 5 €

Annual subscription for all museums : 16 €
Group visit
Adult groups:
Group from 12 to 30 pers.: 3 €/ per person
More than 30 pers. : 2.50 €/ per person
Guided tour by the Association MC2-Friends of the Museums of Cholet : 50 € (fixed for a group of 40 people maximum)
Free entrance and guided visit for school groups.
We accept credit cards or cash payments.
Practical informations

» Self-guided visit or guided tour.
» Visit time : 1h/ per gallery
» Guides for self-guided visit are available at reception desk and in all rooms (+ in German for Vendée Wars).

Guided tours
» Booking required for groups
» The museum opens every day for groups (except Monday morning)
» Languages spoken : French, English
Accessibility
» The museum has been awarded the Tourism and Handicap label for motor, mental and hearing handicaps
» All areas are available to disabled except the Labyrinth for which a discovery tool will be delivered to reception
Shop
» Museum shop opened at museum opening times : catalogs, art books, postcards...
Program
» An activities program is edited every six months.
The History Gallery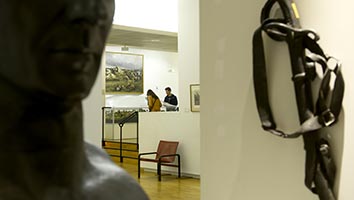 This gallery illustrates important events in the history of Cholet and its region from the Gallo-Roman period to the First World War. The main emphasis is on the Vendée wars, fought between Catholic/Royalist and Republican armies at the end of the 18th century.

Of special interest is the room devoted to the commanders of the Vendée forces: Cathelineau, Lescure, Henri de la Rochejacquelein, Charette, Bonchamps, etc. The fighting between "whites" and "blues", then the Virée de Galerne and later episodes in the conflict (the uprisings of 1815, the rebellion led by the Duchesse de Berry in 1832) are illustrated by monumental canvases, weapons, archive material, flags, artefacts and eye-witness accounts.
The Art Gallery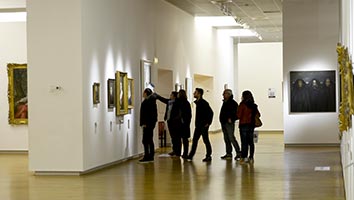 The Art Gallery features paintings dating from the 16th century to the present day.

The first rooms illustrate the principal genres of academic painting: historical events, mythology, religious subjects, landscapes and portraiture, represented by such masters as Jean-Honoré Fragonard, Carl Van Loo, Antoine Coypel, Jean-Marc Nattier and Noël Hallé.

20th-century painting and sculpture is well covered, particularly the abstract art of the last 100 years, from Cubism to the present day. The artists featured include Thorvald Hellesen, Georges Valmier, Auguste Herbin, Victor Vasarely, Aurélie Nemours, Jean Gorin, François Morellet and Michel Jouët, all representing one of the major artistic trends of our time.
Fun for the whole family
Does the artist represent reality?
The Museum of Art and History poses this question, pointing out that, when viewing an image, we should not always judge by appearances. The artist is often seeking to communicate a message through his work. The composition, choice of colours and other elements help convey his or her own ideas or those he/she is required to express.

Have fun interpreting the pictures exhibited ! A booklet of games and other activities provide keys to the secrets of the artists represented in the various galleries.

In French only.
GRAV Labyrinth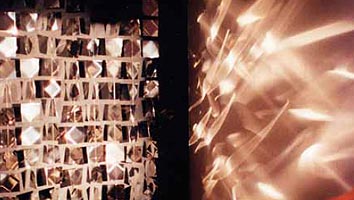 Don't miss the labyrinth created by the Visual Art Research Group (GRAV), an interactive work in which you are "obliged to take part"!

» GRAV Labyrinth
Documentation centre
The documentation centre of the Art and History Museum comprises two archives:
» A historical archive, consisting of works on the Vendée wars and on local history;
» An artistic archive, consisting of a major collection of monographs essentially on the subject of 20th century artists, and general works about art (particularly geometrical abstraction).

Consultation by appointment only.
Downloads
History of the Arts
Teaching pack for primary and secondary school teachers
» 1789 and Robespierre, Michel Jouët
» Cholet Museum pack (French-English)
» Cholet Museum educational programme
» Cholet Museum - Discovery tours Group
Our tourism partners
To organize your stay in Cholet or in Anjou